Spencer
You will remember Spencer as you drive or walk the main road that runs north and south through town. It's a beautiful street where neighbors make you feel welcome as you are strolling the sidewalks. Spencer has a population of 11,000 residents that enjoy the convenience the town has to offer. Spencer was ranked 10th best place to live in the United States by Relocate-America.com's "America's Top 100 Places to Live for 2007.
Area Insights
Gary's on the River

Spencer

Gary's is newly owned by Rabab, and sure to keep your taste buds coming back for more. The menu still features classic American comfort food, as well as some of Rabab's Mediterranean favorites. This comfortable, yet classy restaurant is perfect for date night, or family night. Gary's features their ever popular "pizza night" on Thursdays and Fridays, which is always amazing, and their "pasta night" on Wednesdays, which is sure to keep you full all night! More Info

Winther Stave & Co

Spencer

At Winther, Stave & Co., LLP we use a team approach. You have a team of accounting professionals at your disposal, not just one person. With specialists in many different areas, we can draw on that breadth of knowledge and experience to help with services ranging from taxes, to payroll, to wealth preservation.

The Bear

Spencer

The Bear is an eclectic little coffeehouse and wine bar nestled in Spencer. The bear serves amazing breakfast, lunch and dinner year round, as well as beer, wine, and of course, the finest coffee. It has a casual, comfortable setting, sure to keep you coming back for more. Its also great for meetings, work events, or just a nice spot to meet friends. They host events, local live entertainment, and more; they're very involved in their community. More Info

Spencer Hospital

Spencer

Spencer Hospital delivers the highest quality healthcare in its area.They are compassionate about their patients, while providing high-tech, and professional care to each of their patients. They have a specialized cancer center, diagnostic imaging, surgery center, and a brand new OB unit. Spencer Hospital's amazing doctors provide personalized care, and treat each patient with compassion, and care. More Info

Emagine

Spencer

If you're looking for a creative take on web design, Emagine is the company for you. Their innovative approach to custom web design is second to none. Not only do they specialize in web design, but custom photography, print design, programming, mobile development, inbound marketing, e-commerce, video production, and more. This team offers a fully customized experience for each client. Their unique ideas, and forward thinking are sure to blow you away. More Info

Jimmy John's

Spencer

Jimmy John's slices our all-natural meats and fresh veggies in-house every day. Our fresh-baked bread is made right here where you can see it, and our house-made tuna salad is fresh every day. The flavor of a ripe tomato, crisp shredded lettuce, combined with fresh-baked bread, fresh-sliced meat and real Hellmann's mayo - that's when the magic happens. Made with love every single day since 1983. That's Jimmy Fresh!

The Sports Page Bar & Grill

Spencer

Sports Page is a fan favorite restaurant in Spencer, Iowa. With their never ending menu, with classic American food, its sure to please everyone that visits! With TV's everywhere you look, you won't miss any of the action, whether it be football, baseball, basketball, or any of the other major sports, Sports Page has you covered! This family friendly restaurant offers a comfortable atmosphere for all to enjoy. More Info

Spencer Golf & Country Club

Spencer

Spencer Golf & Country Club, established in 1919, is a Semi-Private Golf Club featuring its well manicured 18 hole championship golf course and full service restaurant experience. Outstanding membership rates are available to residents, non-residents, and corporations. If a membership isn't right for your needs, non-residents of Spencer are welcome to play anytime that the course is available, as often as you would like. If you are looking to host a corporate outing, organization fundraiser outing, or group golf outing, look no further than Spencer Golf & Country Club. We can accommodate...

Salon M Spa

Spencer

Salon M Spa is an Aveda concept salon in Spencer. Located in the Southpark Mall, this upscale salon is sure to exceed your expectations. Salon M Spa's services include hair cuts, colors, highlights, updo's, and even extensions. They also offer waxing, manicures, pedicures, and spray tanning. As an Aveda salon, their mission is to be environmental leaders, by creating environmentally friendly products, and be environmentally conscious in the beauty world. Another cool thing about this salon, is that they are 99.9% paperless, which means you'll be handed an iPad, instead of a book or... More Info

Consumers Lumber Company

Spencer

Consumers Lumber Company is the only locally owned and operated building center in the area. They have been proudly serving the best builders and homeowners with the best materials and services since 1906. They have locations in Spirit Lake and Spencer Iowa with a complete line of building materials and builder's hardware. They also have full showrooms of millwork, stone, decking and cabinetry. Dollars spent with Consumers Lumber stay in Dickinson and Clay counties. They support all the area schools and youth organizations along with several other community charities. Consumers Lumber...
Spencer Homes For Sale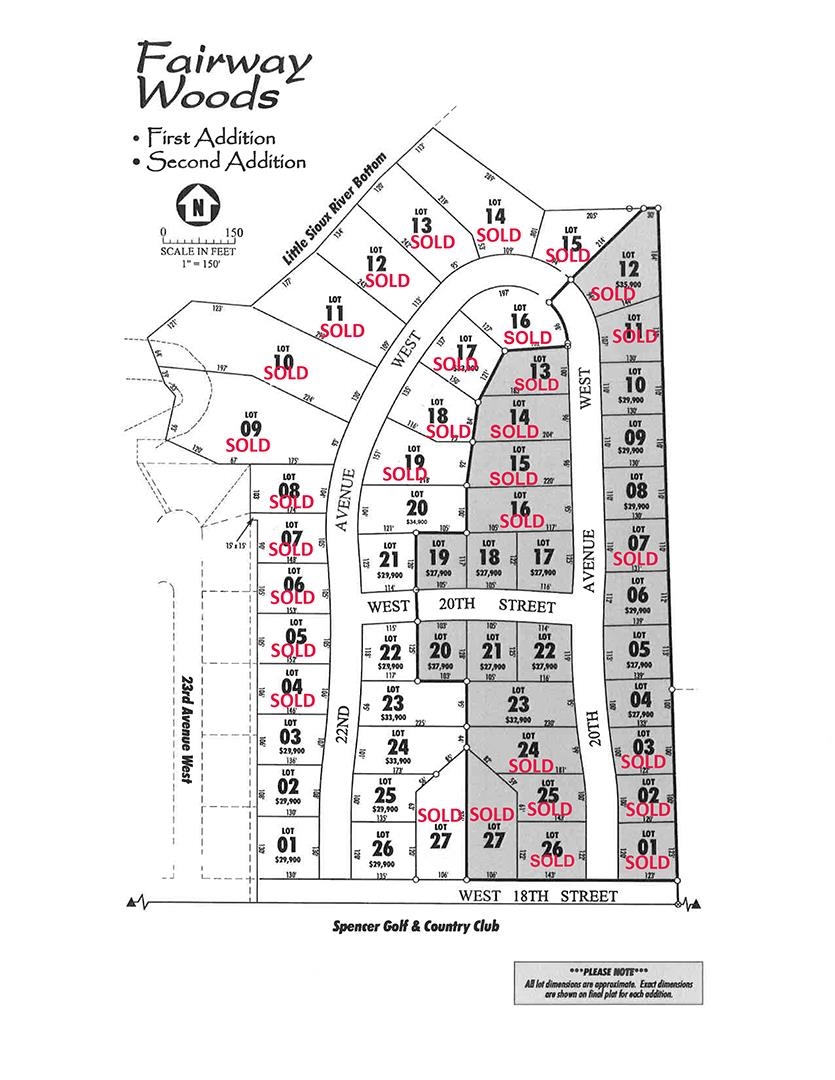 Ready to build your new home? Fairway Woods 2nd Addition offers several great lots. Excellent opportunity to build a new custom home in a...
160978MLS #
N/ABATHS
N/ABEDS
14300SQFT
Listed by : NORTHWEST IOWA REALTY, KIM BATES
2104 20th Avenue #09 Spencer, IA 51301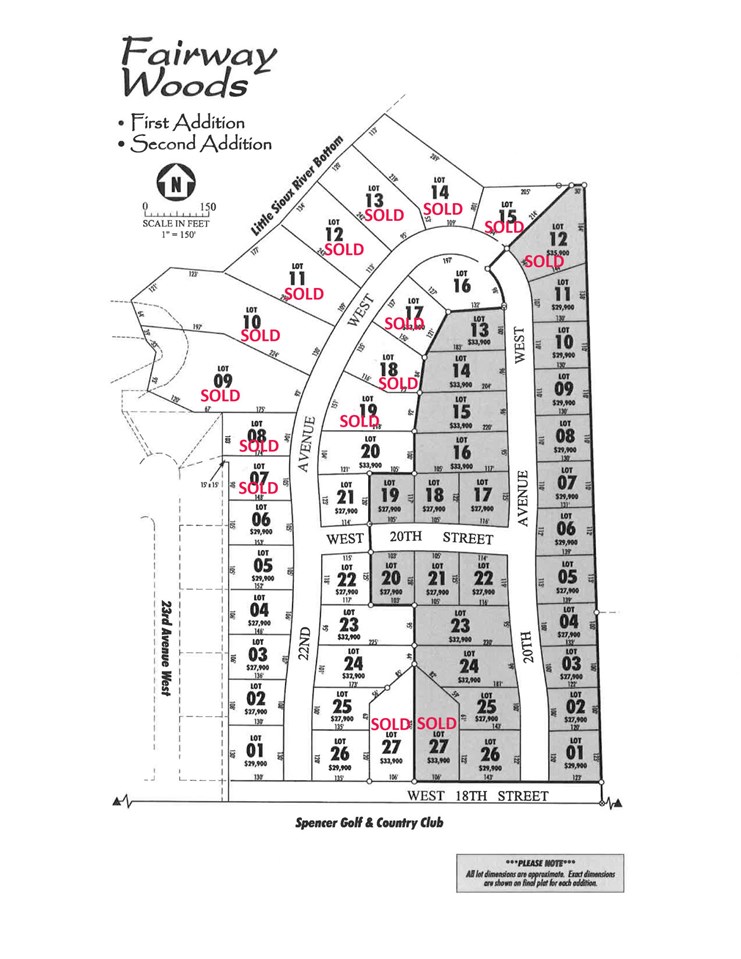 Ready to build your new home? Fairway Woods 2nd Addition offers several great lots. Excellent opportunity to build a new custom home in a...
160977MLS #
N/ABATHS
N/ABEDS
17468SQFT
Listed by : NORTHWEST IOWA REALTY, KIM BATES
1803 20th Avenue #26 Spencer, IA 51301
Ready to build your new home? Fairway Woods 2nd Addition offers several great lots. Excellent opportunity to build a new custom home in a...
160973MLS #
N/ABATHS
N/ABEDS
15117SQFT
Listed by : NORTHWEST IOWA REALTY, KIM BATES
2002 20th Avenue #06 Spencer, IA 51301
Subscribe To Our Newsletter